The application of pressure to areas on the feet, hands, and ears to initiate healing and relaxation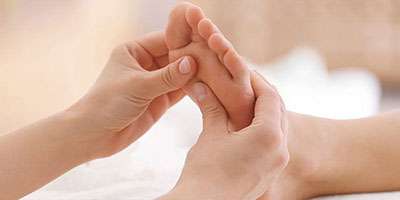 Reflexology, also known as 'Zone' or 'Meridian" therapy, is the strategic application of pressure to targeted areas on the hands, feet, and ears.  Pressing on these areas in a calming way stimulates the nerves, sending messages to the central nervous system, and stimulates the body's natural ability to heal itself.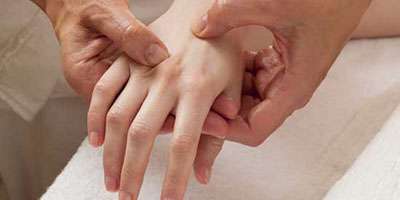 Several studies indicate that reflexology can enhance relaxation, improve breathing and blood flow, address pain and psychological symptoms (including anxiety and stress), strengthen our immune system, and assist with better quality sleep and rest.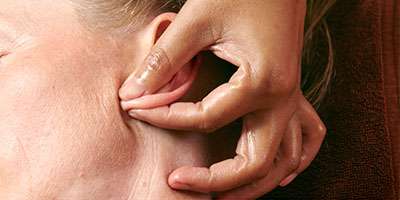 All health conditions we face are a result of an imbalance somewhere in the body.  To be in a state of good health, our bodies must be a composite whole and every part must be in harmony.  Reflexology is used as a means of bringing the body back to a state of balance.
Based on ideas from Traditional Chinese Medicine, reflexology assists to remove blockages in the body's 'qi' (pronounced "chee"). 
When a person is stressed, ill, or injured, this vital energy (qi) is unable to flow efficiently, effectively causing an imbalance in the body. 
The main goal of reflexology is to keep the 'qi' flowing and to maintain balance in the body.
Reflexology works the body on multiple levels. The gentle touch releases endorphins and enkephalins, which promotes feelings of well-being, strengthens the immune and hormone systems of the body.
PRESSURE POINTS & MERIDIANS
In Chinese medicine, different pressure points correspond to specific organs and systems in the body. 
These pressure points, also known as 'reflexes' are some of the many nerve endings we have running through our body.  There are 7200 nerve endings in your feet, 5000 on your hands and 500 in your ear.
Reflexologists use maps of these points in the feet, hands, and ears to determine where they should apply pressure. 
The pressure applied is intended to stimulate the nerve endings and send energy flowing through a person's body until it reaches the areas and systems in need of healing.
By aligning the functioning of various organ and muscle systems, reflexology can… 
Calm the central nervous system
Reduce stress, tension, and anxiety
Improve blood circulation and
Promote the unblocking of nerve impulses
Increase quality of sleep
Improve the body's immune and hormone systems
Help to achieve homeostasis (balance)
Enhance relaxation
Increase energy and mood
Cleanse toxins by improving bladder function
Increase metabolism
Conditions addressed by reflexology
Reduces anxiety in those who have had surgery
Reduces pain during labour
Relieves arthritis pain and symptoms of multiple sclerosis.
Reduces urinary tract issues
Improves sinus issues
Alleviates back pain
Eases constipation
During The Treatment
What You Can Expect
Your Reflexologist will go over your health history and goals.   This may include information regarding your lifestyle, your diet, and any specific health conditions you wish to address. This is also an excellent time to ask any questions that you may have as well.

Based on the answers you provide, your practitioner will determine the best course of action, and whether or not they should work on your feet, hands, ears, or a combination.
Your practitioner will begin by applying oil or cream on your feet, hands, or ears.
Targeted and varying levels of pressure will be applied to certain zones on the feet, hands, and/or ears using different techniques.
During certain reflexology sessions, you might feel an enhanced relaxation which may make you fall asleep.   During others, you could feel a rush of emotions as energy moves through your body.
Reflexology sessions are usually between 30 and 60 minutes in length.
After The Treatment
Results & Recommendations
After your reflexology treatment, you could feel extremely relaxed or you may have a renewed energy and vigor.
Your Reflexologist will recommend a follow-up schedule depending on the results of your initial treatment.

You may only require occasional sessions as 'tune-ups' or you may require consistent treatments every week for a set period of time to properly address your health goals and conditions.
It is common for your reflexologist to provide home-care options that you can do in-between your reflexology treatments. 

Home-care reflexology is easy to do at any time, and can provide fantastic benefits.
Absolutely! At Refined Health & Wellness, our Reflexology practitioners have received specialized accreditation and training.  Since Reflexology is performed by registered massage therapists who are certified in Reflexology, treatments are eligible for reimbursement by 3rd party insurance with massage therapy benefits.  Direct billing for Reflexology is also available.
You shouldn't receive a reflexology treatment if you are recovering from an injured foot or have gout.  This is due to the fact that these conditions may affect blood flow. 
In addition, Reflexology is not recommended for clients who suffer from blood clots or women who are pregnant.
Reflexology treatment are often administered with clothing on. 
If you are receiving reflexology with massage therapy, your practitioner may provide specific recommendations regarding clothing.
As with all of our treatments, your comfort and privacy are our number one concern.  You are more than welcome to disrobe to a level that you are comfortable with.
Reflexology in St. Albert
Book one of the best Reflexology treatments at our St. Albert massage clinic through select Registered Massage Therapists who have acquired specialized training and accreditation.
Reflexology treatments can be received by anyone, from elite athletes to everyday clients.
Questions about Reflexology?  Please reach out to us at [email protected]